Of of all the channels available to Manufacturers & Suppliers to sell into, BOTH Convenience Retailers AND Distributors have the most future potential. But if you don't understand the daily challenges of these two outlets for your company, your product and message might not resonate. What are the most important insights you need to know to be successful in The Convenience Channel?
We have the data to guarantee your success.

The REAL Marketing Problem:
SAMCO was ready to introduce its new Simple Automated Money Machine (S.A.M.) to America's convenience stores.
But research showed that while this SAM machine flawlessly cashed checks, it had deeper value for convenience stores.
CEO Bob Alick met with Tim Lazor and Greg Yost at the Convenience Marketing Group for a marketing approach.
"Going Deep" For Meaningful Differentiation:
As SAMCO followed us through the Go Deep process, we learned that Bob Alick believed he could make SAM the new ATM
in the convenience category. He also knew that he was creating new value for both the retailer installing a S.A.M. machine by driving 74 MILLION unbanked check casher into exclusive convenience store with a S.A.M. Machine.
The Insights, Strategy & Solution:
Armed with these insights, The Convenience Marketing Group differentiated SAM's value with what we called the
"UN" marketing campaign. The "UN" campaign drives home the UN-Deniable facts that UN-Banked people are
creating an UN-Believable, UN-Real and UN-Limited amount of profit and loyal, repeat customers.
Outcomes:
The "UN" campaign breaks in 2019-2020. By applying the expertise of The Convenience Marketing Group to this new product, and collaborating with SAMCO at every step, this check cashing machine is off to an UN-Believable profitable future.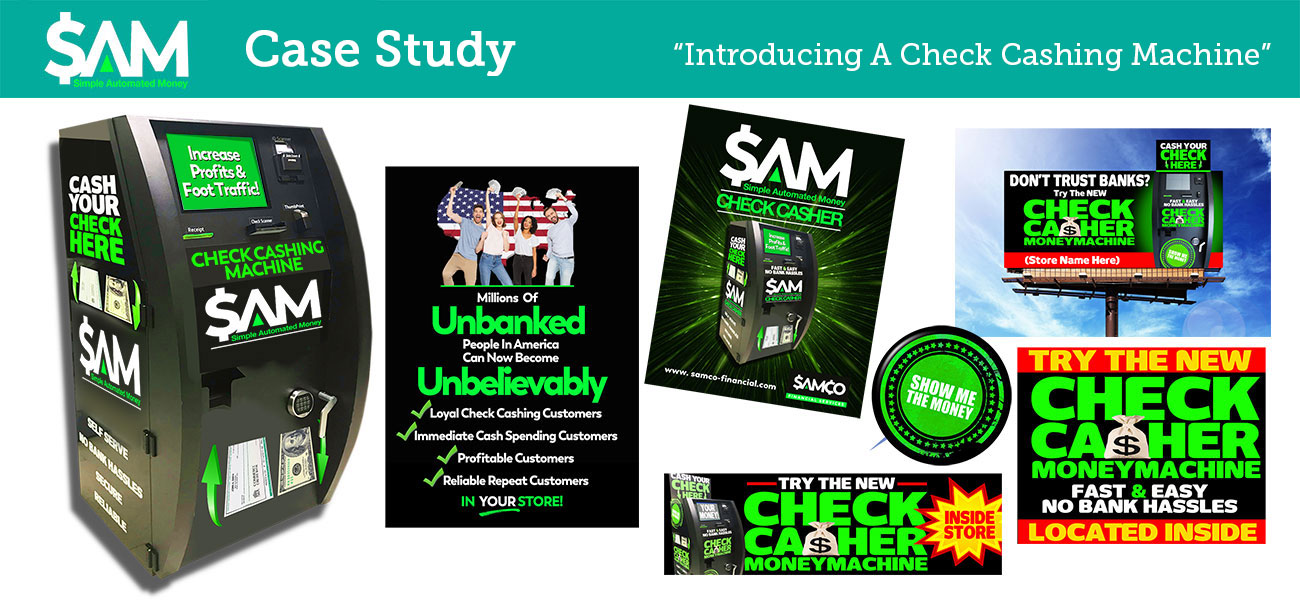 How We Help You Grow Sales